A man took to TikTok to see if he could handle the stresses of pregnancy. Spoiler: He couldn't.
Maitland Hanley (@maitlandhanley) took to the app to live a day in the life of a pregnant person. In the clip titled, 'Man tries being pregnant for a day, he wrapped a watermelon around his stomach with clingfilm. He also added two additional ones to mimic fuller breasts.
In TikTok, which has racked up an impressive 15.8 million views, his partner can be heard mimicking the sound of an alarm clock. The 'pregnant man' is shown laying in bed "like a tortoise on its back."
He boldly commands the camera to "watch this" before attempting to launch himself off the bed with the added weight but failing and becoming trapped.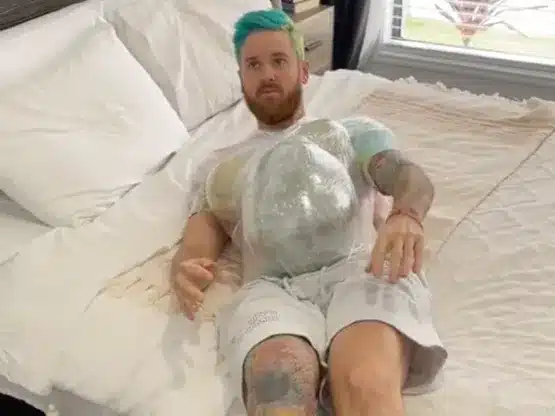 His pal and partner are heard laughing hysterically in the background. The video was funny to other TikTok users. I wish we could throw ourselves like that without tearing a muscle or ligament, one person said.
Maitland advanced the pregnancy experiment in a follow-up video by including a second watermelon to simulate bearing twins.
He tells himself, "We sit up first," in an attempt to be more strategic, but quickly stops himself after realizing, "It's impossible, guy."
He added, "You can't sit up".
The complete video is accessible here.