Almost two decades after its release, Evanescence's song "Bring Me To Life" has strangely climbed to the top of the US iTunes charts.
The song is definitely a smash, but we never imagined it would make such a strong reappearance.
The number-one song, "Bring Me To Life," has dethroned other songs like Harry Styles' "As It Was" and Nicki Minaj's "Super Freaky Girl."
Evanescence posted to their social media to thank their loyal fans, writing: "19 years and still going strong! Bring Me To Life is #1 on iTunes. Thank you for the love!"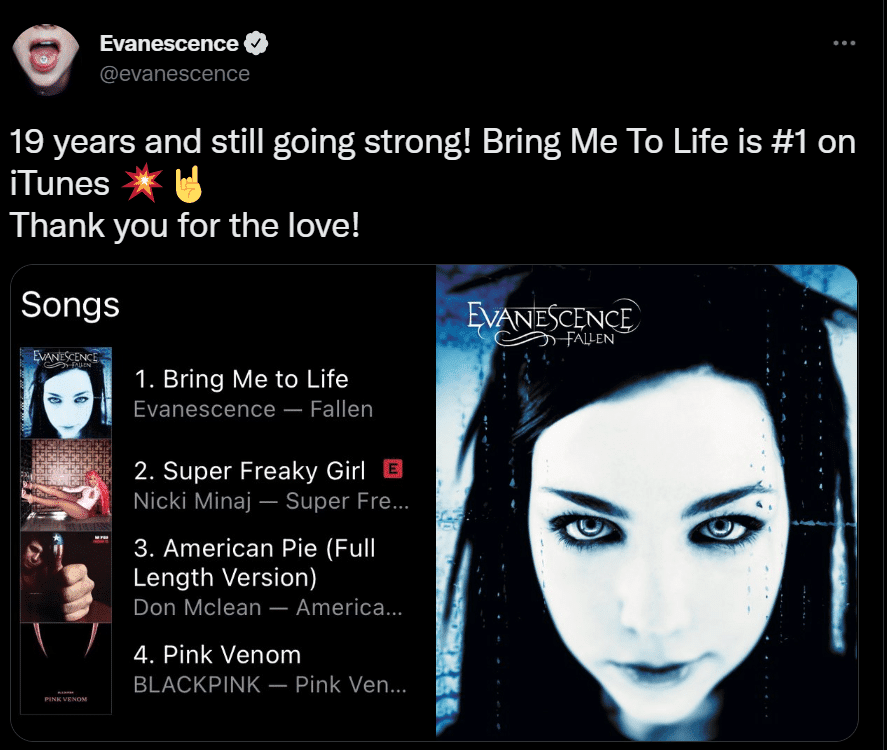 Before I come Undone…
The song's revival, however, continues as it has risen to number five on Billboard's Top 100.
However, we have a hunch that this may be related to the band's critically acclaimed co-headlining tour with Korn.
The two just teamed up for the latest US tour, and the internet is awash with images and videos that have people nostalgic for the early 2000s, which is what we're all here for.
The best duo ever, according to one Twitter user, "they are pure magic together."
Another remarked: "Ears ringing, attended first performance in about three years. The performances by Evanescence and Korn were incredible.
Another user remarked, "Went to an Evanescence and Korn concert and they sang Freak on a Leash together as an encore. This was very hype."
The band reached its pinnacle of fame in 2003 with the release of "Bring To Life," which was included on their Fallen album, which sold more than 17 million copies and earned them two Grammy Awards.
Wake me up Inside
The lead singer of the band, Amy Lee, disclosed to Sonic Seducer last year that the platinum-selling song is actually about her spouse.
As he was a buddy sobbing for her during a failed relationship, Lee revealed she composed it before they ever started dating.
I was in a difficult situation and a poor relationship at the time, and my current husband, Josh, was simply a buddy and someone I hardly knew.
"It was maybe the third or fourth time we'd ever met and we went in to go grab a seat at a restaurant while our friends parked the car. We sat across from each other, and he looked at me and he just said, 'So, are you happy?'"
Lee added: "It's amazing that that became the song, the first song that broke us on to the scene and made everyone hear of us, because it was about something so personal that I was recognising in my life."
Here's a blast from the past, see below for the full music video of Bring Me To Life: