When he met fans, Johnny Depp surprised them by dressing up as Captain Jack Sparrow.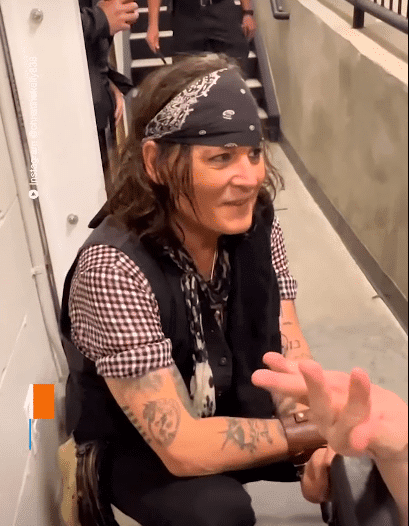 This is Amazing!
The Pirates of the Caribbean actor met with a fan while out and about and seamlessly assumed the role of his legendary figure from the blockbuster films.
While initially speaking to the fan in his usual voice, Jack Sparrow's distinctive tones and slurred speech patterns suddenly start to emerge.
Because Johnny Depp is clean-shaven, which is something Jack Sparrow never truly was, some people weren't convinced it was Johnny Depp at first, but that voice is indelible.
While the lack of a beard may initially confuse you, it's simple to recognize Depp once he starts performing.
Fans complimented Depp for taking the effort to change into Jack Sparrow in front of a fan after the video was uploaded on TikTok.
He can get into character so quickly, according to one commenter, and he'slipped right into the spirit of Captain Jack Sparrow,' according to another.
Depp appeared to be a "great person," according to one commenter, and another added that "he looks thrilled" to be connecting with fans and making people happy.
Others, including one who exclaimed, "IT'S SO OBVIOUS IT'S HIM," couldn't understand how someone could mistake Depp for anyone else, even without a beard.
Even though he isn't expected to play the pirate again in a major motion picture, Depp seems to really enjoy donning the Captain Jack garb.
When he runs into admirers, he has been seen adopting the voice and mannerisms, and he has also performed a few antics as the famous figure.
He has occasionally gone all out and dressed up for appearances, famously shocking visitors at Disneyland as they rode the Pirates of the Caribbean ride.
People who happened to witness him on the ride characterized it as a "surreal scene," and Depp later joked on The Graham Norton Show that in return, he received "all of the iPhones in the world."
The actor has also appeared in character as Captain Jack Sparrow to visit sick youngsters in hospitals while wearing his recognizable outfit from the Pirates of the Caribbean films.